This is my second post about my other than financial planning passion, traveling. Similar to my first ever post on the blog Solo Ecuador Trip During Covid, I am going to cover our Scandinavia trip in 2018 featuring 3 countries of Denmark, Sweden, and Norway in our rental car. At the end of the series, I will have the details of our expenses including flights which didn't exceed $5500 CAD (~€3800 Euro).
We used the ultracheap WOW airline which doesn't exist anymore sadly. If you wonder! Yes, this is true. I almost got us killed twice but thankfully we made it without getting hurt. First incident is covered in this part while the 2nd one will be for the 2nd part of this Scandinavia Trip report.
We were on our Financial Freedom journey even before we started calling it FIWOOT. That is why we barely choose where to go but let the flight deals choose our destinations for us. This happened in Feb 2018 when WOW airline (An Icelandic Airline) had a $312.5 CAD round trip offer from Montreal, QC to Copenhagen, Denmark in April – May 2018.
We the parents didn't even have Canadian passports at that point so needed a Schengen visa on our Iraqi passports which is the most stressful part of every trip. The document preparation including proof of medical insurance, funding, job confirmation letter from employer, filling applications, and taking photos are all stressful, time consuming, and costly.
This was not a typical relaxation vacation. It required lots of preparation and research to make it happen specially considering we travelled with our two small children. Our 6 years old daughter was amazing during the whole trip. She was full of energy and paid attention in all museums. However, our little one who was 3 became sick and cranky because of cold and fever.
For the Schengen visa, we made appointments in the Danish embassy in Ottawa. They were super friendly and professional. We had all our papers in order. They took the papers, made biometrics including fingerprints and contacted us after 10 days to pick up the passports stamped with the visa. The visa was given only for the duration of our trip without a single extra day.
A Mistake Cost Me an Additional $375 CAD
The challenge started by booking the wrong return date. I booked it from April 29th to May 6th because I was too excited and didn't pay attention obviously. I realized this immediately and called WOW customer service. Getting a hold of someone was a huge challenge with about 1 hour of waiting time to no resolution. They didn't want to help. I called multiple times and requested talking to a manager unsuccessfully.
I also contacted them by Facebook Messenger and sent multiple emails showing the booking and that my first call to change the return date from May 6th to May 13th was done within 1 hour of booking without any real success.
However, they finally offered changing but charging the full price (Not the discounted one I used while booking). I had no choice but to accept. Paid an extra $375 CAD to the original booking of $1250 for the 4 us including 1 checked-in baggage (1 car seat per child was included). This sadly brought up the cost of each round trip ticket from the initial $312.5 to $406.25. Still a great discounted fare ticket.
Packing Tips to Avoid the Hefty $170 per Luggage Fee
We only had 1 baggage with the dimension less than 158 cm and a weight around 20 Kg. The round-trip charge for this was $170 CAD when booked during the flight booking. We also had 2 car seats and 1 stroller. For the car seats, we took a full car seat for our little one and a booster seat for our older daughter.
As we are only allowed 1 item (car seat or stroller) per child, we put the booster seat inside our luggage to avoid paying a hefty additional $170 for a $20 CAD car seat.
Of course, we could rent it from the car rental company but why paying extra when you can manage to have your own with no extra charge? Therefore, we had the booster, car seat, and stroller all sorted out. We kept weighting the luggage to make sure it was less than 20 Kg. When they weighted it during the check-in, it was 20.3 Kg. However, the agent didn't demand $26 per extra kilo which was too much to handle for us mentally.
In addition, we had 4 normal school backpacks. As WOW allowed those as free items (With a weight of less than 10 kg each), we filled 3 with clothes and one with food and snacks and brought them onboard.
We packed couple sets of clothes which ended up being more than what we needed as we had washers in every place we stayed at.
Food Preparation to Save Costs
For the food, don't laugh but we like doing it this way. As we mostly stay in Airbnb and can prepare our own meal, we take our own Olive oil and salt because occasionally we had places not offering anything in the kitchen shelves. We also like our tea, so we packed 50 bags of teabags and about 250 grams of sugar. We used to have sugar with our tea, but we cut the sugar over a year ago.
For breakfast, I packed some peanut butter, gam, and Nutella. As a back up for when we can't find food on the road or too late to buy things or whatever else, we took two tuna cans, 4 noodles, 2 microwave rice, and 2 microwave soup packs.
We also took some hot chocolate bags, a pan, some plastic spoons, knives, and forks. We didn't forget our water bottle containers and cups. In addition, I also took some salty crackers, some chocolate bars, M&Ms, and other sweet bars. Imagine, we fit all these in only one bag! That is some packing skills, don't you think?
Car Rental Booking and Some Tricks
We were debating about renting a car. But there were many advantages considering the kids and luggage while travelling around (to/from airports, train, and bus stations). In addition, we like staying in towns outside the main cities (better and cheaper places), so we opted in renting the rental car.
I found a great deal on AutoEurope (50% discounted) and took it right away. It was for a compact automatic car with AC costing $450 CAD for 2 weeks from/to Copenhagen. This is the same price you get if you rent from/to Oslo for 4 days only. As always, it is important to check multiple sites and rental companies. Compare what price you get if picking up from a different city. It takes time but as you see it pays off.
Our (Mostly My) Crazy Trip Itinerary
Here goes the crazy plan. Flying from Montreal at 7:50 PM on Sunday April 29th. Transit in Iceland for 1:30 hours and then arrive in Copenhagen at 12:30 PM on Monday April 30th. Pick up the rental car in Copenhagen airport and drive directly to Stockholm to stay for 4 nights (April 29th to May 4th). This is to save on time. We will be tired and don't want to lose a night trying to catch up on our sleep or biological time zone change.
Then drive from Stockholm on May 4th to Oslo. Stay in Oslo for 2 nights (May 4th to May 6th). Drive to Bergen on May 6th. Stay in Bergen for 2 nights before taking the ferry on May 9th to Hirtshals, Denmark. Finally drive back to Copenhagen and stay till departure on May 13th at 12:30 PM. Arrival in Montreal Sunday at 6:50 PM.
Regarding the Norway – Denmark ferry, we had the option to drive back through southern Norway and then Gothenburg, Sweden to Copenhagen. That adds extra hours to our already extensive driving hours not counting the high price of gas and the Norwegian toll roads. Ultimately, we decided to take the overnight (1:00 PM to 8:00 AM) ferry with comfortable beds and sea view window. The cost was $400 CAD including carrying our rental car.
Let the Adventure Begins – My Manager Drove Me to the Airport
We live 2 hours away from Montreal airport (YUL) and we planned to park the car in my Montreal office parking. We packed sandwiches for the road and flight to Copenhagen and left home around 1:30 PM. I dropped the family off at the airport around 3:40 PM and drove to the parking.
I had to wait till 4:00 PM when my manager showed up, took the car keys, and drove me to the airport. There was already a big line for checking-in with WOW. We waited in line which took about 25 minutes to have our 1 luggage checked-in and receive our boarding passes.
We then had to drop off the car seat in the odd size baggage section but were told to take the stroller up to the airplane with us. By now, we still had 3 hours left to our scheduled flight. We spent those hours in the airport playing with electronics and struggling with kids who started to get tired. We didn't pre-book the flight seats due to the cost, but we luckily got seated in one row for both legs of the flights.
We also got even luckier when they seated us in the extra-leg section from Montreal to Iceland. Boarding was easy. Sometimes having kids give priority which we always take advantage of. Get on the plane early and settle down before it gets crowded.
WOW Airline was surprisingly a good flight. The flight attendants were all so nice, polite, and with a smile all the time. We didn't have a single negative issue with WOW which makes their bankruptcy feels worse.
Reading all the online reviews, I was so scared that this will be a disaster but the total opposite happened except the minor customer service issue caused by my own mistake. It was a nice and smooth ride. Of course, you must pay for everything including food and even water. That is the norm with all budget airlines.
There were no screens or WiFi but there were power outlets with European plugs. You could rent iPads which come loaded with movies and games. We didn't have to as we already had our food, drink, coloring and activity books, 2 tablets, 1 smart phone, and a laptop.
Landing in Copenhagen, Denmark & Rental Car Pickup
The immigration in Iceland was a breeze, efficient, and fast. There was no visible custom checks. We quickly cleared Schengen, boarded our 2nd leg, and landed on time in Copenhagen. Getting out of the correct gate was a bit of a run around. We kept going up and down. Signage was not helpful when it comes to the rental cars. The airport was under massive constructions and it seemed very crowded and weird to navigate. I hope the construction is over by now.
I asked the girls to just sit so I figure it out. I finally found the exit, took a 5 minute shuttle bus to the rental car offices. Renting the car was so easy. I had it booked and paid for using my Gold Amex which comes with full car insurance too. Of course, I had this card for bonuses and cancelled before paying for renewal. The car rental agent was very professional and the whole process took less than 5 minutes.
They just asked for the driver license, took the deposit of 2500 DKK (~ $360 CAD) and handed over a brand new Skoda Fioda 2018 with only 70 km mileage. It was a very nice white car. However, I have never heard of this make and model before.
I drove the car to the same terminal. All airport terminals offer a free first 15 minutes parking. I parked the car and ran to the girls. Took them to the car, put the car seats, and loaded the luggage, and drove out in less than 15 minutes. We already had food and some sandwiches left so didn't need to have a food stop.
Driving from Copenhagen, Denmark to Stockholm, Sweden
It takes 6 – 7 hours to drive the 460 KM without a stop. We first drove over the famous Øresund bridge which includes an artificial island and a tunnel to Malmo. The crossing is pretty but not special. It is also very costly 350 SEK ($50 CAD). They did a passport check before driving in Sweden which was due to the mass European immigration. The immigration officer was only looking for Schengen stamp. It was so windy on the bridge which she couldn't easily check the papers of the passport.
It took the immigration officer couple minutes to go through the passports. First stop was Malmo. We drove around HSB Turning Torso. It looks a massive building in town and is the tallest building in Scandinavia. It looks unique to look at for couple seconds but if you live in any big city with lots of high-rise buildings, you won't find this appealing. Next stop was the Little Square in Malmo.
There were lots of parking spots. The square looks nice. We walked around and took photos for 20 minutes. I also planned to go visit Malmohus castle but considering it was 4 PM and we were all too tired, I gave it a miss.
Instead, we just drove around Malmo, stopped by a little playground and as soon as the kids started to play, the sky started to pouring rain. We took photos and back to the car. It was time for our 7 hours drive to Stockholm.
My Wife Saved Our Lives
The highway was straightforward and easy to follow which make me keep feeling sleepy. In my first Canadian job, I had experience driving very long hours during days and nights after hours of non-stop work. Sometimes I managed to drive 9 hours without having a nap for 40 hours. But I always knew my limit and when I feel it, I just pull over by the highway, take a nap and then continue.
I wrongfully thought this is similar. It wasn't because of the biological time-zone change which I missed on adding to my calculation. I managed to stay up for more than 30 hours till this moment. However, at one moment there was that sudden microsecond that I closed my eyes. I felt asleep and was dreaming while the car was going on the cruise at a 110 Kph speed! The car wasn't too smart to realize my hands were off the steering.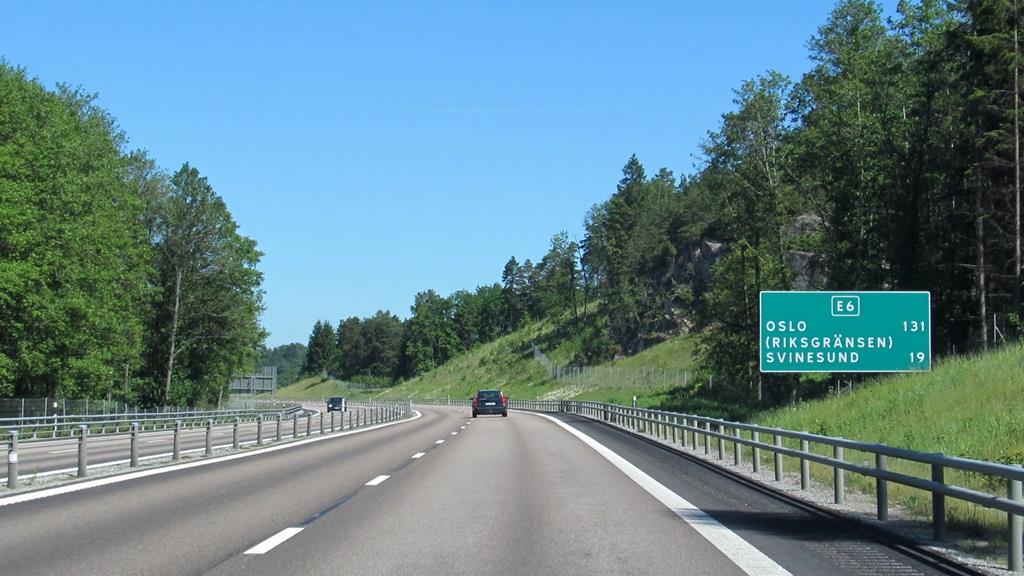 I suddenly hear my wife saying my name loudly while holding the steering. I jump. I was dreaming. What a nightmare. She saved us all. She saved our lives, the car, and our vacation. How could I ever forgive myself if she weren't there at that moment! She said that she was asleep too but suddenly woke up and noticed the car was going to the left rails after crossing the 2 highway lines.
Of course, I woke up and kept moving the steering while trying to straighten the car with no luck. It took me 20 – 30 seconds to realize I am maneuvering in the middle of the highway on the cruise speed. Then I finally hit the brake and stopped the car. We were so lucky to have the angels protecting us. There were so many ifs that didn't happen thankfully. The universe gave us a second chance!
The cruise control, empty straight highway, less concentration, and finally falling asleep. I am not justifying but explaining. This was around 7:30 PM. After a short break, I started driving again but I was done by 8:45 PM. We had another 2 hours of driving, but I needed to close my eyes.
Finally Arrived at Our First Holiday Home in Stockholm
I pulled over in a gas station and tried to get some rest. I did sleep for couple minutes but had my eyes closed for half an hour which was refreshing. I then washed my face with cold water, took a protein chocolate bar, and started driving again. We finally made it to our first holiday home in a very pretty town called Saltsjöbaden, Sweden about 25 KM from Stockholm.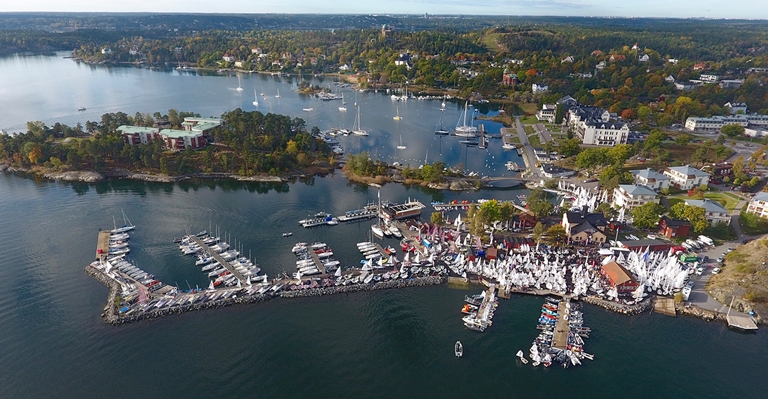 The town was surrounded by trees, rocks and water. It was charming and quiet everywhere with mountain like roads. It was 11:30 PM. I already told my host we will be late, so she sent me photos of the entrance and left the door open with a note about places to see around, WIFI password, responsibilities, heart shaped chocolate candies, and some apples.
This was a guest house with full kitchen, shower, a sofa bed, and a queen bed. Everything was tidy and comfortable. We thoroughly enjoyed our stay here. The cost was $300 CAD for 4 nights. You can't even get a single night hotel in downtown Stockholm with no kitchen for this price.
Exploring Stockholm, Sweden – Day 1
These couple days were busy days. Lots to see and explore in Stockholm. Gladly, I already asked our host to buy us 72 hours public transportation passes. This helped us in starting our exploring without wasting time on trying to find an office to buy the passes. She had them ready along other information on the table upon our arrival. The train station was a 5 KM drive from the house which had free parking.
We left the car by the train station the whole day and took two trains before transferring to a bus. The journey took about 1 hour, and we were in the old town (Stortorget). We started walking around, admiring the building and the architecture, the streets and the stores. Took pictures in front of the Noble Museum (Nobelmuseet) and Storkyrkan (Stockholm Cathedral).
We didn't go inside Nobel Museum (120 SEK) nor the Cathedral (60 SEK). We then walked to the Royal Palace and visited the Royal Apartments, Royal Treasury (Skattkammaren), Tre Kronor Museum, Gustav III's Museum of Antique, and The Royal Armoury (Livrustkammaren).
The visit took about 3 hours. The palace is nice, and we enjoyed seeing different sections of it all packed in the same spot. The cost was 160 SEK ($24 CAD) per adult and free for children. I should point out that 99% of the Stockholm attractions are free for children coming with a paid adult.
The Royal Armoury is free of charge to enter even without the palace ticket.
We then walked across the bridge and down to the waterfront. Had lunch by the water and took some more photos of Stockholm with the water view. Museum of Medieval Stockholm (Medeltidsmuseet) was there too but closed.
We kept strolling around the city before taking the bus and trains to return home. We arrived back around 7 PM. Tired and excited for the following day. Kids off to bed.
Exploring Stockholm, Sweden – Day 2
Second morning we woke up, had breakfast and headed out the same way. We walked in the city center park which is really a nice park toward Hallwyl Museum. It is a Free museum with lots of antique and history. We spent about 2 hours there. It was 12:15 PM when managed to be by the palace to see the change of guards.
It was packed with people and we had to squeeze to see the change of guards. It was a nice experience but not very comfortable due to the crowd and limited time. People were also kept trying to get in and out which made it even less enjoyable as we had to pay attention to the human traffic rather than watching the guards.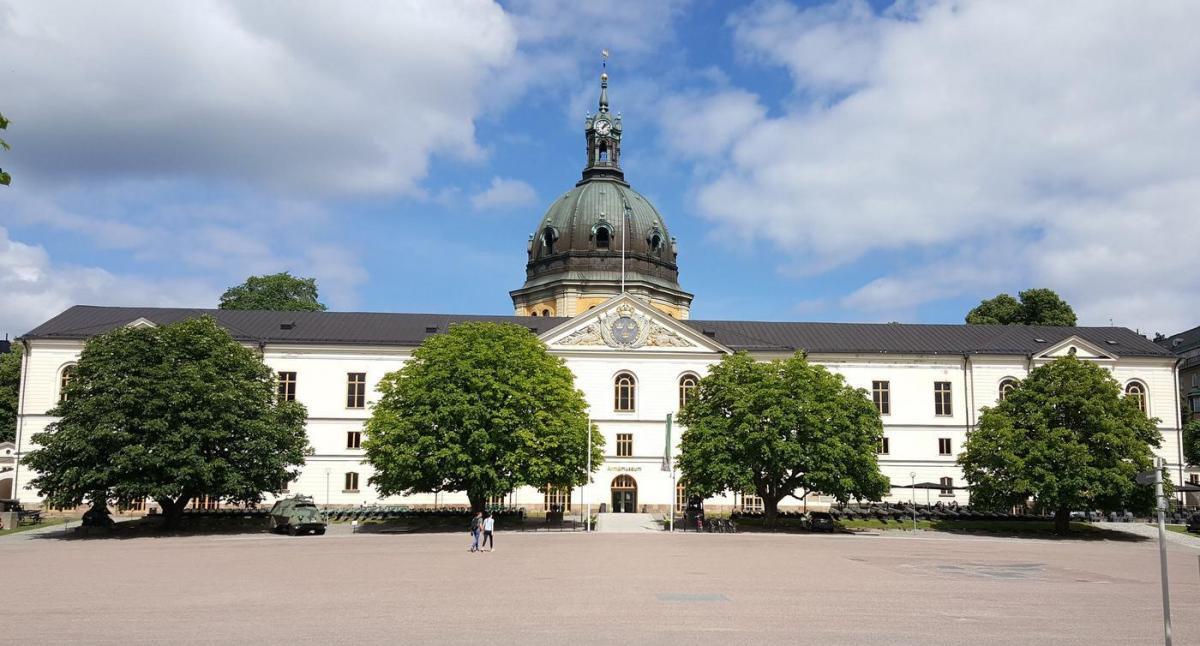 We stayed for 10 minutes and then left to go to the Army Museum (Armémuseum). We got there but it was closed. Interestingly, we just realized that it was a public holiday in Sweden, so we skipped the Army museum and went to the Historiska museet which is The Swedish History Museum. Another great free museum to learn more about Sweden and its history. It was interesting to learn Sweden was a great power which a united allies of Russia, Denmark, and Norway couldn't defeat.
We also had plans to visit Nordik Museum (Nordiska Museet) but felt it would be too much of museums. Hence, we took the public transportation back to our Airbnb. By the last train station, there was a small restaurant which had Fish and Chips. We took some home. When we got home, we enjoyed the food, took some rest, and then decided to go back to Stockholm by car to drive around freely and enjoy as much as possible.
We went to the area which hosts Vasa museum and took some photos. There were very interesting colorful sculptures in the area. Make sure to stop by if you have kids (or even if don't) and take some time to admire the complex artwork.
We went to the waterfront from this side of Stockholm. Admired the views and of course took more photos before it gets too dark. We then drove around more until it got dark, enjoyed Stockholm at night and headed home around 10:30 PM.
Regarding Nordiska Museet (Nordik Museum), the visit was free on Tuesdays between 1:00 and 5:00 PM. The regular admission fee is 120 SEK per adult. It also has a Children's playhouse for 20 SEK per child.
Exploring Stockholm, Sweden – Day 3
On our last day, we again took the public transportation in the morning plus the ferry to Vasa museum. It was an enjoyable fast ride. I thought I will be disappointed at Vasa museum as it is only a simple ship, but I was totally wrong. This was a 4 floors museum with interactive activities and displays among explanations and different views of the ship in each floor.
No wonder why it is the highlight of every visitor to Stockholm. The entrance is 130 SEK ($19 CAD) per adult with guided English tours at 11:30 AM, 1:30 PM, and 3:30 PM. We didn't take the tour as we can't really enjoy or stick to any tour when walking with the kids. We need to go on our own pace. We spent around 3 hours in the museum.
We bought some sweets and had lunch in the museum. By the time we were done, we didn't really have any plan or place to go to. We decided to go home, get some rest and again drive back in our car until darkness. Another great drive around Stockholm. Honestly, Stockholm has a very easy and smooth driving experience. It has the best, most efficient, clean, cheap, and fast public transportation I have experienced.
There goes how we spent our first full 3 days in Stockholm with our kids. In the next part, we will drive to Oslo, Norway and then through the Fjords to beautiful Bergen before taking the ferry to Denmark.