My first combined report in June 2022 was a success and welcomed by many investors including our lovely Canadian dividend income seekers. Here is the Aug 2022 report.
The list keeps growing and this month I have 2 new Canadian investors on my list (What am I getting myself into?) It is fun honestly but a bit time consuming.
I hope I can inspire myself and others to continue our passive income journey as it gets challenging at times. The only criteria to be included in this post is to have a blog with regular monthly dividends' earnings updates.
Let's congratulate ourselves for getting stronger & wealthier by focusing on growth dividend stocks beating the crazy volatility of 2022 and beyond.
At the end of each monthly report, we will announce the top 3 monthly earners. I realize this is not a competition and that's not the point of this announcement. It is just a way to make it more inspiring and encouraging to others. Yes, we can all eventually catch up with those numbers.
Some of our great friends didn't post their August income or I couldn't find the article to include them here. I might have also missed some accounts which I apologize in advance.
In that case, please contact me via email, Twitter, or even better comment below so I can add you for the next month.
Let's start by the total number. You guys earned $22,404.54 in August 2022 which is the lowest number since I started these reports. Yes, August is slow but still fun! It's Summer.
Melissa @ Our Life Financial shares her family life story and how she started her own journey! Melissa earned $1,317.61 in August as her lowest paying month which is a 28% YoY increase.
She and her husband reached 67% of their $35,000 passive income goal of 2022. The largest payers for this month were $BMO, $RY, and $PPL which counted for ~ 61% of Melissa's income.
Melissa provides the comparison of the tax consequences of $60,000 for an Ontario resident. Here are the numbers:
$11,012 for a $60,000 RRSP withdrawal
$3,593 for a $60,000 capital gain
$1,930 for $60,000 in eligible dividend income
$0 for a $60,000 TFSA withdrawal
I honestly don't even want to check the numbers for Quebec as it will make me feel depressed.
Rommel @ My Prudent Life is generous enough to only share his TFSA dividend income with us where he earned $524 in August 2022 which is a 2.20% YoY growth.
Mike @ The Dividend Guy Blog is the great investor behind the DSR portfolio which is a wonderful resource for many investors. We had a little Twitter exchange last month on how I missed him in my reports which made me feel guilty!
The point is, don't be shy if I missed you! Reach out as long as you meet the criteria of having a blog which you update with your income monthly. Mike only shares the income from his pension plan which grew 13.27% annually since inception 5 years ago.
Mike earned $414.77 in dividends for August 2022 which is a 29.60% YoY increase.
GYM went camping somewhere in BC and hunted some carbs successfully which reminds me of our PEI adventures years ago! GYM is currently looking at a nice $26,168 forward annual dividend earnings. To put things in perspective, this translates to earning $12.58 per hour for a 40 hours a week full time job.
She doesn't report her exact monthly numbers (or I can't find them) but based on the total annual, her average is $2,180 monthly. Great job, GYM. Keep it up!
Another Loonie had some expenses including an auto renewal. Sometimes it feels great to live in Quebec! I paid $300 annually for my 2012 Mazda3 while Loonie had to pay $1500.
Loonie and his wife received a combined $98 in dividends mostly from $XDG and $XDIV.
I love reading AL's monthly expenses and investments updates. Bravo AL's family on adding to your investments. Hopefully your networth will cross the $700K sooner than later.
Graham @ Reverse The Crush shows us how his August's dividend grew 110% YoY to $109.17 in 2022. If a 110% YOY growth isn't enough to inspire us, then I really don't know what helps? The total dollar amount doesn't matter. The consistency and year over year growth is what makes the big change in this journey.
Graham is short of $448.21 to reach his new goal of $1,300 for 2022. Considering a $106.47 monthly average and 4 more months, I clearly see that this goal is achievable. I love seeing RTC's monthly growth. Keep up the amazing work my friend.
Matthew @ All About Dividends earned $571.34 in dividends which is a 33.7% YoY growth. His payers were $BMO, $RY, and $EMA in TFSA while he got paid from AbbVie, Verizon, General Dynamics, Texas Instruments, and Apple in RRSP.
Matthew, I love your dividend's meter! It is so unique and cool to look at. Great work and you are on track reaching your $8,500 annual goal for 2022.
Bob @ Tawcan will be a speaker at the Canadian Financial Summit is happening Oct 12 – 15! A great opportunity to learn from the leaders.
When it comes to dividends, he crushed it with another amazing month by receiving 18 paycheques in August 2022 which added up to the total $2,783.72.
Bob's dividend's income grow by 56.72% YoY and look how adorable this monthly chart since 2011 looks like. It is amazing to see how Tawcan has been consistent with his investment strategy for over a decade.
The top 5 payers covered 71.8% of this income. These companies were Omega Healthcare, Bank of Montreal, Canadian Natural Resources, National Bank, and Royal Bank of Canada.
Mark @ My Own Advisor targeted $27,000 in dividends' income for 2022 and he is already crossed the target with his current $27,902 forward dividend income.
Mark doesn't include his exact monthly numbers but based on the annual income, he is earning an average $2,325 from dividends monthly. Mark keep up your great FIWOOT leadership!
Michael @ Passive Prairie F.I.R.E bought 250 shares of $CNQ in his TFSA which adds $546 annually to his passive income. He earned an impressive $1860.38 in dividends in August 2022 which is a fantastic 581.2% (My mind is going BOOM) growth YoY. He earned $7,638.52 in 2022 so far and on track to reach his $10,000 goal.
Great job, Michael. Let's see the numbers grow in September.
Fin Dependence Canada final goal is to reach $50,000 in annual dividends. They received a total of $1,209.46 in August 2022.
Current year's projection grew to 20,562.52 from previously $19,376.42. Their top payers were $BTI (Sorry, I will never consider investing in Tobacco), $RY, $TD, $BMO, and $EMA.
Great job guys! Can't wait to see next month's numbers.
Sam @ My Dividend Snowball had another fantastic month where he earned $2,246.12 in August 2022. This is a 34.06% YoY increase.
Sam's current yield is 4.01%. However, the yield on cost of is portfolio is 5.07%. Sam's current portfolio generates $38,046 in 2022's forward dividends. Just inspiring to look at Sam's numbers and growth. Keep up the great work.
Dividend Daddy numbers make me bow or take my hat off in respect! I mean, come on! $3,403.64 in one of the lowest paying months is just beyond my imagination. Do you know what this means?
It means, he earned $18.5 per hour as a 9-5 full time job employee! Almost all this income was from dividends and distributions excluding a small $343.36 portion which came from rental income.
Almost half of his dividend income came from 5 holdings which are $TD, $BMO, $CNQ, $RY, and $NA. What can I say, my friend? Just wonderfully amazing. Bravo!
Rob @ Passive Canadian Income is still earning from 3 sources of passive income. Also life seems going all happy and fun for Rob and family. The wonderland pass should be awesome. Sadly, there is no theme park close to where we are.
Rob earned $539.75 from 7 stocks' dividends in August. His DRIP added $10.12 to his yearly forward dividend's in August 2022.
I am always amazed by Rob's purchases which he shares on his blog. Great job on all the recent purchases taking advantage of the market's correction. Also, congratulations on the extra $1,000 passive income from other sources.
Dividendes & FNB earned $592.79 from 8 stocks and 1 ETF in August 2022. His 2022 goal of receiving $12,000 in dividends is 63.56% achieved.
I love how he shares the small details of his earnings every month consistently. Thanks for the nice and detailed work and looking forward to seeing your 2022 achievement.
Investing Pursuits received a great $352.45 in dividend income in August 2022 from 15 different companies which is a 19.74% YoY increase. He also reported a $58.05 income in option premiums which is a nice boost to the extra monthly income.
Jordan @ Money Maaster shares their farm experience full of cute pictures. When it comes to money, he earned a sweet $606.87 in August 2022 in his TFSA and RRSP accounts. 32% of this income was tax free. It is fascinating to see how Canadians are taking advantage of TFSA account to maximize their portfolio.
Jordan is hoping to crack $18,000 by year end. 35% of his dividend income ($3512.44) in 2022 has been completely tax free versus 25% in 2021. I couldn't help but sharing this family pic!
Catherine @ La Frugaliste Futée received a sweet $303.14 from dividends in August 2022. Her portfolio generated a great $4,224 in dividends this year alone.
Catherine's goal is to earn more than $4,800 in 2023. As always, the increase is much more important than the dollar figure. Her YoY increase was 148% compared with August 2021.
I love how she highlights all the small details and her expected passive income up until Aug 2023. She is looking at an average $400 per month in dividends.
Un travail fantastique ! Continuez !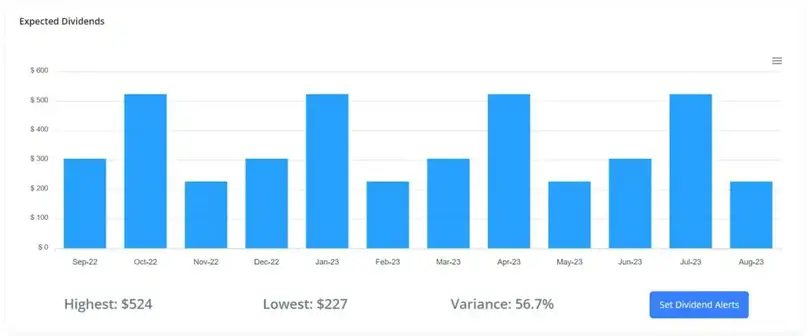 And finally, Mr. Dreamer received $966.33 in dividends in August 2022. My detailed report can be found here.
By the power vested in me, I hereby declare Dividend Daddy, Tawcan, and My Own Advisor August's dividend earners leaders! Congratulations friends and sorry there is no trophy to be given out (this time)!
And finally, why not hitting FIRE We Go! YouTube's channel and watch their interview with Nicole and Mico who I didn't know have a YouTube channel too covering their adventures.