Another amazing adventure came to an end. This time I did a solo trip for 1 week in Belize with a day trip to Tikal in Guatemala which is the most magnificent Mayan site in the world.
You can find the first part of this trip where I cover my arrival, Caracol in Belize, and Tikal in Guatemala adventures here.
Day 4: Exploring More Mayan Sites Around San Ignacio
Today, I decided to take it slower than the first two days and explore San Ignacio and the area around the town. I had a list of things to do so thought it will be a great day to tackle them.
First stop was Cahal Pech Mayan Ruins. I didn't expect much here to be honest but it was another interesting Maya site. The entry is the standard 10 $BZD or 5 $USD and they only accept cash. I only had $100 USD but the lady conveniently gave me change back in $BZD which saved me from paying ATM fees.
Cahal Pech was a smaller site with a nice introductory museum and forest. The ruins are easy to navigate and explore independently. There are also tour guides in the site who are happy to explain the history and walk tourists around the area.
I spent around an hour in Cahal Pech before leaving to my next destination.
Next stop was Xuantunich Archeological Reserve. There were two buses loaded with visitors by the hand-cranked boat crossing Mopan river. So, I had to wait for them to go before they let me and 2 other cars on the boat.
The whole process was quick and free but please donate to these hard-working workers who get paid $20 per day and work 7 days a week.
After crossing the river, it is a short drive to reach Xuantunich. Some people were walking the path while others took the shuttles from the boat to the site.
The entry is again the same standard 10 $BZD or 5 $USD. This site is magnificent and I am sad they are close during the sunset or sunrise. The views on top of the main Mayan structure is gorgeous and I am sure will not be any less beauty than the famous sunset or sunrise tours in Tikal, Guatemala.
I believe Belize tourism should promote these sunset and sunrise tours as they bring more money while creating more jobs for locals.
Do you remember the loads of tourists? I gladly bypassed them thanks to being independent going on my own pace (and car)! Here are some photos of this amazing Maya site close to San Ignacio, Belize.
After around 2 hours, I headed out of this amazing Maya site in Belize to my next destination. I did a quick stop at San Ignacio market but as it wasn't Friday or Saturday, the market wasn't too impressive so I made it a quick 10 min walk around sightseeing.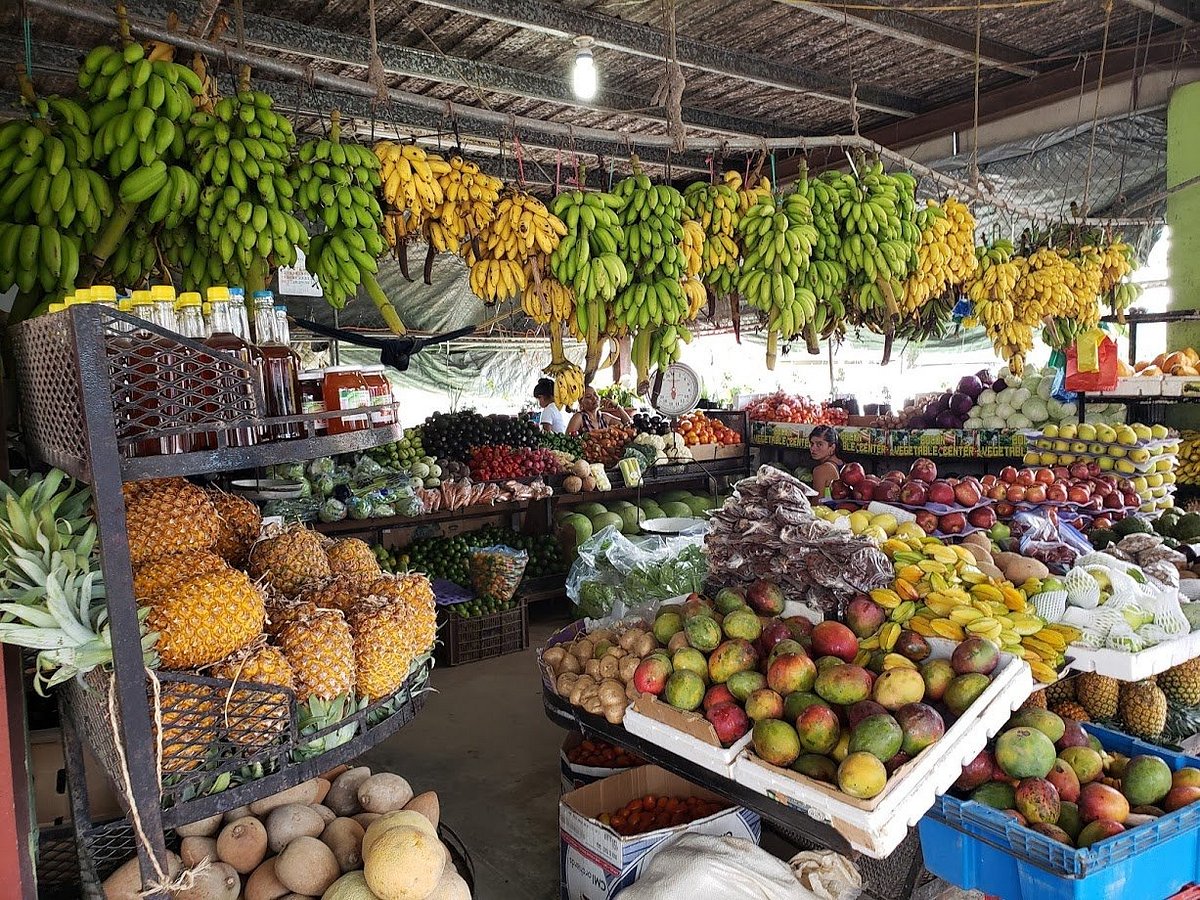 Well, it was still early so I decided to drive all the way to the land Blue Hole National Park. Because I have an addiction to caves, I first stopped by the cave trails.
The plan was to see the caves and then go to the blue hole afterwards. There are 2 caves in the area which are St. Herman and Crystal Cave. St. Herman has both the entry and exit along the hiking path. However, visitors can enter the cave to a limited point without a tour guide.
To enjoy the full experience of entering and exiting the cave through the cave itself, a certified guide is required. The other cave is Crystal cave which requires a certified cave guide as well.
The hike to Crystal Cave was challenging and confusing. Now, imagine you are on your own and you start hearing all the thunders coming closer and closer.
However, Crystal Cave entrance looked amazing and I was so tempted to try it but thinking how steep it is and if things go wrong I might not make it out made me slash these crazy thoughts.
It started pouring rain in the jungle and I was the only one around. Gladly, I found a big rock to hide underneath. After 45 minutes of waiting, the rain slowed down a tiny bit but it was still raining so I had to get going to avoid getting stuck in the forest at night. It was already 4 PM at this time.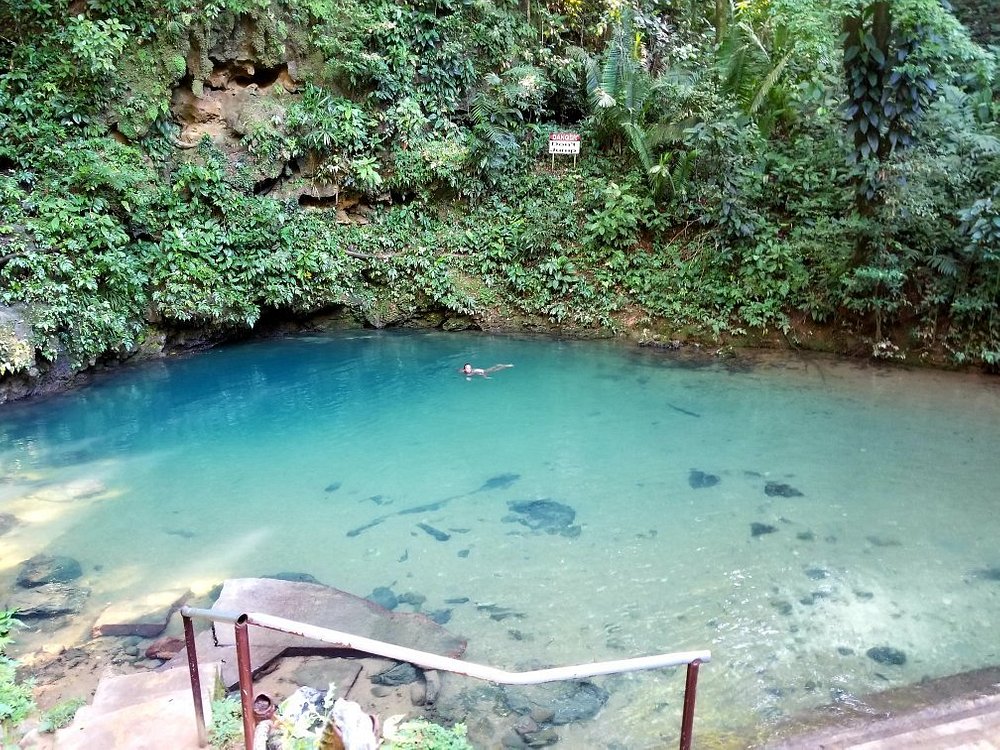 Unfortunately, the Blue Hole itself was closed at this time due to the heavy rain so I missed it once again. I then decided to start driving towards my next destination, The Royal Rat Hostel, in Placencia.
I can't say enough how much I loved this place and its owner. A lovely couple from New Zealand who made Belize their new home leaving their busy life behind. The place is magical especially at night.
I don't need to mention that I was once again the ONLY guest here so I had the whole place to myself. The host was also super amazing and upgraded me from a bunk bed in a shared room to a private Queen room. I can't wait to see these place filled with guests from all over the world.
You can book with them directly using their website. I don't receive any commission from this and they don't even know I have a blog. This is my pure love for this beautiful place.
Day 5: Cockscomb Basin Wildlife Sanctuary & Jaguar Preserve
This unique sanctuary in southern Belize covers an area of about 150 square miles of tropical forest, and is the world's only Jaguar Preserve. Rainfall is from 100 to 180 inches annually here and most of this falls in the rainy season, which occurs from June to January.
Note: You have to pay for the entry at the beginning of the dirt road by the highway. There are signs saying STOP, Buy your ticket. Don't miss or avoid this or you'll have to return.
However, I was super lucky to be here on a clear day and have magnificent views and waterfall experiences.
The park offers camping sites and small cottages with kitchen, bathroom, and WiFi. Visitors can also book a night tour with a guide of their choice to walk the trails hunting for wildlife at night.
During my hiking in the park, I didn't see any jaguar which is expected. The chance of seeing one is 1 in 1700 from what I have heard. So, the jaguar above is the only one I saw in the park!
There are multiple trails to choose from. I decided to do Ben's Bluff and Tiger Fern Waterfall trails to enjoy some great views of Victoria Peaks in Belize plus swim in the waterfall.
Note: Hiking Victoria Peak is only possible during the dry season which is a multiday hike.
After finishing these 2 hikes, I headed out of the park to Placencia for another calm warm night pool in Royal Rat Hostel.
Day 6: Waterfall Day, Mayflower Bocawina National Park
After a great night sleep, I had to leave my beautiful hostel towards Belize City where I flew from. On my 6th day in this small beautiful central American country, I decided to explore another amazing national park.
However, before going there, I explored Placencia briefly as I never had the chance to see it during my two previous days. Placencia is a little charming region with some poor neighborhood. I had the pleasure to talk to some friendly locals on my second night here.
And below some exploring off the main road.
After this little exploration, it was time to drive to MBNP (Mayflower Bocawina National Park) in Belize. The park has 7 waterfalls but requires an early start to see them all. Based on the park ranger, it takes 5-7 hours to do the whole loop.
Considering I arrived around noon to the park (I had a morning meeting with my manager at work so had to stay in the hotel till 9 AM local time), I only had limited time.
However, I was persistent and determined to see as much as I can so there I go to see 5 out of 7 waterfalls in Mayflower Bocawina National Park.
So I started the hike towards Antelope Waterfall first and then to the New Waterfall. The waterfalls are all unique and can't be compared with each other. They all have their own charm.
However, Antelope was an amazing waterfall with some of the best views I have seen in my whole Belize trip. The very steep hike to reach the top was very much worth it but it is not for everyone so be prepared both mentally and physically for the amazing challenge.
And here is the magnificent view from the top of the waterfall.
The New Waterfall has a small pool with sucking fishes! It was so cool that they aren't afraid of humans and come nibble softly! It was also weird at times and made me jump.
After 3 hours of spending time between hiking, taking photos, and swimming in these two waterfalls, I headed back to the main gate to take my car and drive to the entry point of the other waterfalls.
The drive was hilarious to say the least. It was way worse than the drive to Caracol which is considered one of the worst roads in Belize. At some point, I was thinking if I am lost or if this is a real road. It took about 10 min of challenging rarely considered road to get to the trails.
The drive was very much worth it and I saw some of the best waterfalls I have ever seen in Central America for only $5 USD (Remember those $40 Costa Rica waterfalls?)
After visiting all these waterfalls, I felt satisfied of this adventure and was ready to hit the road again towards Belize City. Here is a nice view of the road while leaving this part of the park.
It took me 2 hours to arrive to my hostel in Belize City.
Day 7: Final Day, Belize City & Departure
This was a sad day. A day to say goodbye to this charming country which surprised me with its beauty. I realize most people come to Belize for its islands, snorkeling and diving but the land proves nothing less than spectacular.
Here are some photos of my last day tour in Belize City before heading to the airport. Notice the second Belize Sign below?
And that's how I finish another amazing adventure in the Americas. I only have Nicaragua left to visit from Central America which I really hope to get done in 2023.
I know you might be asking why I didn't do the most touristy thing in Belize which is the ATM Cave? Well, I don't like tours and especially those in confined places like caves. I don't want to be told go here and there and spend a pre-defined time in a place.
I also saw many videos and photos (when it was allowed) of ATM (Actun Tunichil Muknal) cave which I felt I don't need to experience it in person.
The most important factor that made me change my mind for visiting ATM (Actun Tunichil Muknal) was the no camera policy. I have a YouTube channel in addition to this blog so spending $125 for a day trip to not be captured on the camera isn't a thing I'd like to do.
I also wanted to do Barton Creek Cave but unfortunately it was raining so heavily on the day I visited so it was closed.
Will I go back to Belize? I hope so. I'd love to dive in the real Blue Hole and see one of the most amazing reefs in the world. Maybe that will happen when I am retired.
Until then, thank you Belize for your amazing beauty and hospitality. Hope you enjoyed reading this Belize Travel Report as much as I enjoyed writing it.