Have you ever wanted to make a great source of passive income and cashflow from your cryptocurrencies? Are you aiming to improve your return on investment (ROI) while making a low risk 13.1% interest on your stablecoins?
If you answered yes to any of these questions, this article is for you. In this post, I'll provide you with a comprehensive Midas Investments review which offers the highest crypto earning yields in the crypto market through their unique investment strategies.
Midas is getting more interesting and now offering Midas Boost Tiers.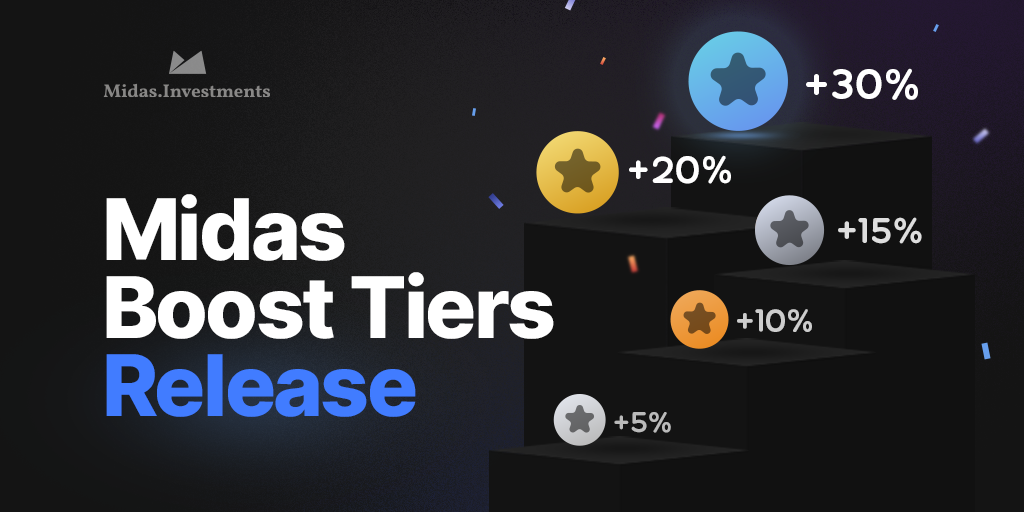 I will be as transparent as I can to avoid any misleading information. I'll also be sharing the pros and cons and my personal experience with this platform.
What is Midas Investments & a Brief History
We have heard of the big crypto platforms like Crypto.com and Nexo. However, smaller players like Midas have been actively adding to their userbase and assets under management (AUM) in parallel.
Midas was created by two crypto-enthusiasts and friends (Trevor and Parker) as a shared Masternode service in January 2018 and had an amazing evolving journey before becoming the user-friendly high yield passive income crypto exchange platform we know today.
Midas Investments mission is to empower its investors to achieve financial independence through building sustainable passive income streams by utilizing opportunities in the crypto and DeFi markets.
Currently Midas has multiple teams and employees across the world under its founder and CEO leadership, Iakov "Trevor" Levin.
Midas received its asset management license in Switzerland and is registered in St. Vincent and Grenadines with company number 1999 LLC 2022 to allow the normal business processes. It is also scheduled for an audit by Armanino by Q3 2022.
Is Midas Impacted By LUNA, UST, Celsius, or 3AC Crisis
The short answer is, No. Midas isn't impacted.
It seems that 3AC was one of the core borrowers from every lender of the market with a heavy bet on Luna and UST. The Luna crash event triggered the house of cards, where the risk of lenders was accumulated in one place without them knowing it.
Midas has a different model of fixed yield than lending services and wasn't impacted by any of the recent crisis. Midas has been generating profit and distributing yields without any hiccups during these hard times.
In addition, Midas never restricted withdrawals unlike many competitors.
Will Midas Block or Restrict Withdrawals In Very Extreme Conditions?
Midas never locked withdrawals and were perfect at executing withdrawals in every extreme market condition. The company deeply analyzes liquidity for every investment strategy to understand the constraints.
Analyzing real-time order book liquidity for algorithmic tools, analyzing protocol's TVL and token's available liquidity. This is on top of the deployed alerts on the most crucial metrics of protocol, like liquidity decrease.
By this message, I am trying to reveal how we are doing stuff because the simple answer like "hey, we will not do this" will not work.

Trevor, Midas Founder
How to Join Midas Platform
Authorize Discord or Google to create a Midas account for you
Enter your personal information and complete the KYC verification process
Deposit crypto by sending from another wallet and start earning instantly
Refer your friends and receive 5-10% of their earned interests
I recommend against using Discord. Google is a more reliable option. For extra security, change your email, enable 2FA, and review your Google account security.
Midas Investments Platform In a Nutshell
| | | |
| --- | --- | --- |
| Offered Products | | Crypto savings account |
| Regulation | | Midas Alpha LLC is incorporated in St. Vincent and Grenadines |
| Supported Cryptos | | AVAX, BNB, BTC, BUSD, CVX, DAI, DEFIYAP, ETH, FTM, LINK, MIDAS, SYAP, USDC, USDT, SLETH, SSETH, DFTFLP, WBTC, GLP |
| Minimum Deposit | | Variable (0.00002 BTC, 0.00001 ETH, or 2.50 USDC) |
| Lock-In Period | | None |
| Interest Rates | | Variable |
| Payment Frequency | | Daily and tracked to the second |
| Fiat Support | | None |
| Cryptos Purchase | | Only swap between cryptos including stablecoins |
| Deposit Fees | | None |
| Withdrawal Fees | | Variable for ERC-20 and ETH but static for other blockchains |
| Min Withdrawal | | Variable for ERC-20 and ETH but static for other blockchains |
| Swap Fees | | 0.3% to 0.6% routing plus spread (Stablecoins swap is 0.02%) |
| Main Supported Chains | | BTC, ETH, ERC-20, BEP-20, AVAX-C, FTM |
| Insurance | | None (Custodial insurance through Fireblocks in progress) |
| Security | | Uses Fireblocks' multi-party computation and 2FA |
| Platforms | | Browser web app |
| Customer Support | | Live chat, Telegram, Discord |
| Signup Bonus | | Referrer receives 5-10% from their referred earnings |
What Are Midas Investments Pros
Super user-friendly platform to navigate through, use, and earn from
No limits, no lockups, no restrictions, and no tiers for earning
Higher interest rates than competitors like Nexo
One of the best engaging and active crypto communities

Very

generous referral program
What Are Midas Investments Cons
Limited cryptocurrency selection support
No fiat currency deposit or withdrawal
High ERC-20 withdrawal fees with no monthly free withdrawals
No phone customer support & no Mobile app
No insurance
What Does Midas Offer (How to Make Money From Crypto)
Flexible interest earning accounts with highest competitive rates
Yield Automated Portfolios (Stable YAP and DeFi YAP) and MIDAS token
CeDeFi investment strategies (SLETH, SSETH, DFTFLP)
An exchange to swap between supported assets
Midas Blog to get the latest news, how-to guides, and product updates
Reliable and secure infrastructure, platform, and company
The platform offers two main product which are its Interest Account and Crypto Swap.
You can simply join by signing up with Midas, complete the KYC (Know Your Customer) verification, and deposit your crypto to start earning high interest on your deposited crypto.
Earning in Midas starts as soon as your deposited crypto arrives in the platform. There is no further action required to start your passive income journey as the platform makes it very easy and straightforward for new crypto users to start earning on their cryptos.
Midas Interest Account & Interest Rates
The company has a very simple earning methodology. Earn Save Invest Repeat (ESIR). Simply, deposit, earn, and glorify your portfolio with the magic of compound.
There are multiple investment types which are Strategy, DeFi, CeDeFi, and Staking. These fully automated and transparent strategies benefit from certain market movements and give investors new risk adjustable opportunities.
Here is the list of currently supported assets and their yield. All yields are guaranteed except the staking yield which relies on the staking APY and can change daily.
Investors can boost their APY by earning in MIDAS native token. In the table below, you can see the Interest rates before and after the boost. Also anything with an * has a flexible rate which can change daily.
CeDeFi APY rates are the expected rates and not guaranteed. Also, there is no boost for these CeDeFi strategies.
Note: I removed the Boosted APY column as it isn't as simple as it used to be. Every use will get a different boosted APY up to 30% based on their MIDAS token allocation.
| | | | |
| --- | --- | --- | --- |
| Asset | Blockchain | Type | Interest Rate (APY) |
| AVAX Avalanche | Avalanche | Coin | 9.9% |
| BNB Binance Coin | BEP20 | Coin | 7.0% |
| BTC Bitcoin | Bitcoin | Coin | 7.1% |
| BUSD Binance BUSD | BEP20 | Coin | 13.1% |
| CVX Convex | ERC-20 | Coin | 14.4% * |
| DAI Dai | ERC-20 | Coin | 13.1% |
| DEFIYAP DeFi YAP | Swap Only | YAP | 11.8% |
| DFTFLP DeFi Farming LPs | Swap Only | Strategy | 40.0% |
| ETH Ethereum | ERC-20 | Coin | 8.4% |
| FTM Fantom | Fantom | Coin | 8.4% |
| GLP GLP Index Token | Swap Only | Strategy | 27.0% |
| LINK Link | ERC-20 | Coin | 3.6% |
| MIDAS Midas | ERC-20 | Coin | 27.4% |
| SLETH Soft Long ETH | Swap Only | Strategy | 45.0% |
| SSETH Soft Short ETH | Swap Only | Strategy | 25.0% |
| SYAP Stable YAP | Swap Only | YAP | 13.5% |
| USDC USD Coin | ERC-20 | Coin | 13.1% |
| USDT Tether | ERC-20 | Coin | 13.1% |
| WBTC WBTC | Bitcoin | Coin | 6.8% |
The concept of Midas Crypto Interest account is very simple. It lets you earn up to 45.0% APY interest on your cryptocurrencies.
Deposit your cryptocurrencies in the platform
Start earning compound interests immediately (no lock-in or maximum)
Get paid in-kind daily which is tracked to the second
As shown on the table above, Midas offers different best crypto earning interest rates which varies based on the asset regardless of the amount. The current high interest rate for stablecoins USDC, BUSD, USDT, and DAI with no cap is 13.1% or more if earned in $MIDAS.
BTC and ETH will earn 7.1% and 8.4% in-kind or more when earned in $MIDAS.
Note: Interests hit the account exactly in 24 hour after the first deposit. If there are more deposits, the time remains 24 hour after the initial deposit
What Are Midas Yield Automated Portfolios (YAPs)
YAPs are crypto index funds made up of a selection of cryptocurrencies, grouped together and weighted by market capitalization. They provide a cost-effective way to invest in cryptocurrencies while spreading the risk among multiple cryptos.
There is also a tax advantage when using YAPs to buy or sell multiple assets with one transaction versus buying or selling the YAPs' underlying cryptos individually.
There are currently two YAPs provided in Midas which are Stable YAP and DeFi YAP.
Stable YAP (SYAP)
The Stable YAP offers investors the opportunity to invest in a fully managed and automated investment portfolio that offers long-term growth potential as well as a daily payout in SYAP token. SYAP is designed to outperform BTC, ETH, MIDAS and USDC while producing a passive income.
Every SYAP token in circulation is backed by real assets BTC, ETH, MIDAS and USDC which is rebalanced monthly. Each crypto holds a 25% weight in Stable YAP (SYAP).
DeFi YAP (DEFIYAP)
The DeFi YAP offers investors the opportunity to optimize returns by investing in some of the most forward-thinking projects in the DeFi space.
Every DEFIYAP token in circulation is backed by real assets which are ETH, MIDAS, LINK, FTM, AVAX, BNB, DAI and CVX. Each coin has an equal 12.5% share of DEFIYAP.
To simplify, if an investor puts $800 in DeFi YAP, this deposit will be split and the amount will be used to buy $100 (1/8 or 12.5%) of each coin in the portfolio. This means, the investor has $100 of each coin.
How to Invest In YAP Strategies
Join Midas Investments and complete the KYC verification
Top up your Midas account balance by transferring cryptos from an external wallet
Open the YAP investment card and click Swap
Congratulations! You will start earning more YAP shares everyday.
What Are Midas CeDeFi Strategies
Midas introduced three CeDeFi investment strategies to represent the next step in Midas' development as to utilize the simplicity and security of centralized frameworks fuse with the transparency and premium yield opportunities of the DeFi ecosystem.
Midas' innovative CeDeFi investment strategies are fully automated and built with smart contract functionality, allowing them to offer strategies with up to a 45% ROI.
Before investing into these strategies, I'd really recommend doing your due diligence. I honestly, love the old DEFIYAP and SYAP funds but I am uncertain about how these 4 new strategies going to perform.
I have a feeling that Midas team is trying to do something unique but might be a little distracted. Sometimes, old approaches are good approaches and no need to renovate new indexes everyday.
My point, delay investing in any of these new strategies or invest in very small amounts until we have a good understanding of their performance. So far, it hasn't been a nice ride.
For instance, we thought Short ETH strategy will perform well when ETH value declines but to our surprise both the Long and Short ETH strategies lost value since inception!
Strategy 1: SLETH, Soft Long on ETH
This is a DeFi strategy which generates yield through ETH-USD liquidity pools and price appreciation of ETH as borrowed USDC is converted to ETH with an estimated 45% ROI.
Similar to YAPs, an investment into this strategy will be composed of shares, and the value will be stated in USD. This strategy is an excellent way to diversify a portfolio during choppy, bearish markets while at the same time maintaining exposure for the start of a potential rally in the crypto markets.
Strategy 2: SSETH, Soft Short on ETH
This strategy generates yield through ETH-USD liquidity pools and price depreciation of ETH due to ETH being borrowed while half of the position is converted to USDC. The target ROI is 25%.
Similar to YAPs, an investment into this strategy will be composed of shares, and the value will be stated in USD. USDC is deposited on AAVE to borrow ETH, and half of this ETH is then sold for stablecoins.
This strategy is a great way to hedge your cryptocurrency portfolio from a potential drawdown in the market while profiting from yields on Alpha Homora.
Strategy 3: DFTFLP, DeFi Token Farming
This strategy is a basket of incentivized liquidity pools representing the most profitable cashflow models in protocols with DeFi tokens on Convex Finance which may generate high ROI while investors also benefit from price appreciation of the underlying tokens.
The ROI goal is 40% for this strategy. Each token in this strategy aims to address the pain points of DeFi and includes tokenomics revolving around protocol cash flow.
If investors are bullish on the DeFi market, this strategy is an optimal method of diversifying their portfolio with a premium ROI potential.
Strategy 4: GLP, GLP Index Token
This DeFi strategy generates 20-30% APR (in ETH) by providing blue-chip liquidity for leveraged traders on GMX, a decentralized perpetual exchange. Users supply liquidity into an index called GLP and earn fees generated from traders' liquidations, swaps as well as gain from trader losses.
10% of weekly profit (only if the strategy has generated profit); fees are deducted directly from the strategy shares each week. This strategy comes with a 0.5% swap fee.
How to Invest in Midas CeDeFi Strategies
Midas users may swap into and out of all positions at any time with any asset supported on Midas platform, allowing them to rebalance your portfolio based on their investment preferences.
Learn more about Midas' CeDeFi investments strategies, including the risks associated with each and all the detailed fees on Midas Wiki page.
Midas Investments Swap or Cryptocurrency Sell
Investors can swap their tokens between the supported cryptocurrencies and stablecoins in the platform. There is a 0.3-0.6% plus spread fee charged in the sold coin of the swap pair. However, swapping between stablecoins cost only 0.02%.
Here is Midas' recent swap routing and fees.
Note: Midas has all its assets paired with USDT. This means, for each swap, the token gets converted to USDT first and then to the requested asset.
Go to your assets inside the browser app
Choose the desired asset to be swapped, and click Swap
Choose From and To currencies, review your order, and click Swap
Midas doesn't have an option to buy or sell cryptocurrencies as there is no fiat support.
What Are Midas Investments Fees
Deposits: All deposits are free of charge with a small minimum deposit
Withdrawals: Dynamic and static withdrawal fees explained below
Transactions: There is a 0.3-0.6% Routing fees plus spread to swap cryptos
Crypto sells or purchases: No fiat support so selling or buying cryptos isn't an option
Static and Dynamic Withdrawal Fees on Midas Platform
Midas has two categories of assets with different types of withdrawal fees:
Dynamic Fees are for ETH and ERC-20 tokens. Dynamic withdrawal fees are updated automatically. Investors are charged according to the network fee plus an extra $5 in the withdrawal currency.
Static Fees are for all other assets and updates according to the network conditions manually by Midas team. Current rates can be found here.
| | | |
| --- | --- | --- |
| Asset | Min Withdrawal (In-Kind) | Withdrawal Fees (In-Kind) |
| AVAX | 0.5 AVAX | 0.015 AVAX |
| BNB | 0.05 BNB | 0.00021 BNB |
| BTC | 0.001 BTC | 0.0002 BTC |
| BUSD | 5 BUSD | 0.5 BUSD |
| FTM | 1 FTM | 0.1 FTM |
| MIDAS | 1 MIDAS | 0.005 MIDAS |
Midas' Current Minimum Withdrawal Limit for Non ETH/ERC20 Assets
Hot wallets are replenished twice a day, at 8 AM and 5 PM UTC for all coins except BTC withdrawals which are processed twice daily at 8-10 AM and 8-10 PM UTC.
How Does Midas Generate its High Crypto Yield
Midas has a full team of employees who are dedicated to analyzing and investing to generate the high crypto yields. These highly skilled experts are split in three different teams which are DeFi Monitoring, Quant Analytics , and Investment Infra Development teams.
Midas approach always evolves based on the market movements. It utilizes different models of volatility prediction, correlation, strategies, collateral asset models, and hedging to achieve efficiency in all areas of DeFi.
Basically, Midas is not only a DeFi token farming company which gives it an extra edge on top of others. Here are some of its strategies that are used to generate high interests returns.
However, these strategies change rapidly and current strategies might not be valid next month. The company invests assets through diversified strategies. Making every strategy public would likely be divisive on top of offering their secret ingredients to competitors.
In the report, Midas shares its transparent performance of the last two months in terms of yield and gives the sources of yields and risk frameworks that are used for each source.
Base Yield Strategy
The Base Yield strategy is tailored to a bearish market and revolves around stablecoins yield generation as they have the deepest liquidity with no exposure to volatile assets.
The Base Yield on BTC and ETH is produced through a 200% over-collateralization by borrowing stablecoins from the native assets and using those stables to reinvest profits back into the native assets.
The current approach involves using 90% of the assets towards the base yield strategies which allows Midas to continue offering its market leading APYs.
Trend Allocations
Considering 90% of assets are deployed towards the Base Yield strategy, the remaining 10% are used to obtain and manage exposure in strong and fundamental DeFi protocols. This allocation will be increasing gradually according to the overall market movement.
This 10% position creates an upside on Midas DeFi research to increase its portfolio returns by a few points. These extra yields will be returned to investors via the Midas Boost.
The first DeFi allocation project is called Liquidity for Hire which is investing in protocols that are built around accumulating liquidity or voting power of other protocols to ultimately be hired by those protocols.
These additional yields from bribes are a much healthier way to produce more income.
Concentrated Liquidity Provider For Uniswap V3
This approach involves providing concentrated liquidity for two assets in a chosen price range. The smaller the price range, the more fees that are earned. If the price goes beyond the custom range, the liquidity is swapped to the asset.
Borrowing For Target Asset's Collateral to Free Liquidity
This strategy is used as a combination with another strategy and performs extremely well in terms of increasing USD.
Yield Vaults
This is a product of the decentralized hedge funds, such as YFI. These strategies are designed to maximize the return of assets to the vaults.
Leveraged Liquidity Farming
This strategy combines assets with USDC or other stables which allows earning during market pullbacks due to impermanent loss. Additionally, asset plus stable liquidity pools are hardly incentivized by protocols since it is one of the most used trading pairs.
How Does Midas Protect Users' Assets From Market Movements
All Midas strategies are protected by algorithms, heavy projects audits, studying previous cyber breaches, and the projects liquidity.
For instance, the company exited all mid and high risk strategies in February 2022, just before the major crypto drop based on the bearish signal generated by its trending algorithms.
Additionally, the company automated lending health factor check which doesn't go lower than 1.7 with an automatic replenishes in case it drops below the predefined range. It also utilizes automated swaps.
Midas utilizes low-risk liquid protocols like convex pools, which covers most of the yields, and algorithmic CeFi and DeFi strategies that generates the upside to finance the rest of the yields plus Midas buybacks.
This combination allows Midas to sustainably and safely generate yield on DeFi, while profiting from volatility, liquidation, and even flat market conditions. Currently, there are three main investment teams to generate and protect investors funds.
DeFi Monitoring Team: This team analyzes all the blockchains and their potentially profitable projects. They constantly reevaluating emerging opportunities, discussing, testing, and managing capital within these projects.
Quant Analytics Team: This team takes ideas and hypotheses into testing through code and deep analytics. They then build the on-chain analytics module to provide other teams with the raw data from blockchains.
Investment Infrastructure Dev Team: This team automates swaps, entering and exiting positions, managing lending positions, and so on.
In addition, the combination of the recent "Base Yield" and "Liquidity for Hire" strategies creates an antifragile investment infrastructure with limited and manageable risks while providing for steady returns with a healthy upside movement.
Is Midas Safe, Secure, and Regulated (Is Midas Investments Legit)
Regulation: I am going to copy what Dan, Midas' COO provided recently in terms of regulations.
"We are seemingly in the final processes of finalizing our licensing and registration processes. I say 'seemingly' since this has been a long and arduous process and we have learnt not to make promises to the community, however we are in the signing off processes of many of our registrations and licenses.
We plan to make a full announcement of our legal structure including all registrations together and won't be announcing this in parts. For this reason, you will not find separate announcements regarding St Vincent. This will be a multi-faceted legalization structure to ensure the stable continuity of our services and ability for users in all locations to continue using our services. It has been a difficult process to fulfil this criteria, hence the timescales involved."
Audit: An external audit by Armanino was underway and was supposed to be delivered in Q3 2022 but now delayed once again unfortunately. However, internal audits are completed weekly to ensure the AUM exceeds TVL and to track the yield earnings from strategies.
Here is Dan's reply regarding the Audit situation as of Sept 28, 2022:
"We have said this is something that would become available to us post-legalization. Having started licensing back in 2021, we would have well expected our licensing/registrations to have been completed by now, hence previously giving a Q3 2022 timeframe. With Q3 ending Friday, it of course is not achievable, but we understand its importance to implement."
Security and Reliability: The company was never hacked before and has a proven record of operating efficiently while providing market leading returns over the past couple years which confirms they are capable of managing risks professionally.
In addition, the assets are heavily diversified and the company enters and exits mid to high risk strategies based on its proprietary trend algorithms.
Midas investors risks can be classified within below categories:
Hack of the user's account: This can be avoided by using a dedicated email (update the email after using Google authentication) and enabling the Two-Factor Authentication (2FA).
Hack of the platform to manipulate balances or abuse bugs: All infrastructure traffic is encrypted with SSL encryption. It also uses multi-layer security, which eliminates a single point of failure and insulates digital asset transfers from cyberattacks, internal collusion, and human error. In addition, domains are protected with DNSSEC to prevent cyber attacks.
Each transaction goes through a multi signature process consisting of 2-4 DeFi and C-level team members. The connection to the protocols is done through WalletConnect which reduces the chance of having the private key leaked unintentionally.
Hack of Midas infrastructure: 95% of the funds are managed within Fireblocks directly through Fireblocks' MPC framework. Fireblocks provides its users with next-generation private key security (MPC-CMP) and hardware isolation technology (SGX). It also uses multi-party computation to transfer assets.
Each strategy has its own vault, which means a different private key for each protocol. If something goes malicious with one protocol, it won't affect other protocols.
Investment Process Failure: There is no current black swan event that can lead to major portfolio loss, liquidation or any sort of major event with portfolio.
More information about how the company utilizes Fireblocks can be found here.
All About Midas Token & APY Boost
MIDAS token is an integral part of its platform which is designed to produce yield and give utility to holders. The token is on ERC20 blockchain with a 5,000,000 MIDAS total supply. Users can stake and farm Midas token on DeFi apps SpiritSwap and BombSwap.
10% of the daily total payouts made to investors across all cryptos go to MIDAS market which provides a consistent and sustained flow of liquidity to MIDAS market.
What Happens to The Purchased MIDAS Tokens
1. Growth Fund: Funds will be held and utilized with the sole purpose of providing opportunities for growth to the platform or its native token. This can be anything from providing liquidity to marketing opportunities.
2. Investor APY Boost: Funds collected in this allocation will be released during the following six-month cycle of emission rates.
3. Burn: Funds enter a designated burn wallet address that will not be recovered. Asset flow from the payout split will be reviewed on a six-monthly basis to ensure funds purchased through the Payout Split are being utilized to provide optimal long term results.
What Is Midas Boost (APY Boost)
Midas users have the opportunity to boost their native APR by receiving payouts directly in its native MIDAS token. Users choosing to utilize the MIDAS Boost feature will receive the full value of their payouts directly as MIDAS shares.
Midas introduced the tier boost system which gets reflected on each user's profile accordingly. The requirements for each tier as of now is as below. However, this will be adjusted based on Midas value and market conditions.
Base: No MIDAS
Bronze: 5% on total portfolio in MIDAS
Silver: 7.5% on total portfolio in MIDAS
Gold: 10% on total portfolio in MIDAS
Diamond: 20% on total portfolio in MIDAS
The total portfolio is the combined value in USD of all investment products on the Midas platform: Fixed Yield, CeDeFi strategies and Yield Automated Portfolios (YAPs).
Payouts are converted into tokens at the time of payment. Boost feature can be enabled or disabled at anytime for each crypto. Boost contributes to the liquidity of Midas token and steadily increases the health of the coin organically.
What Are Midas Token Addresses
Total MIDAS token circulation can be found here.
| | |
| --- | --- |
| Address Type | Address |
| Core wallet for holding user assets | 0xfd2db685f285179e1153ddd03ea6a21a03087d92 |
| Midas treasury | 0xd77d15dca779a09d521a7311aa786b374da9569f |
| Tokens not yet claimed from the swap | 0xdc3216332bfe606f81afc475b5199caf404a0426 |
| LP on Spiritswap | 0xede32b76302cb71cc0467c4b42dabffa6b091dd1 |
| LP on Bombswap | 0x02ba4291c54d179caf7626a562e06328742ec40d |
| Emissions | 0xba8a8f39b2315d4bc725c026ce3898c2c7e74f57 |
| Wallet connected to swap purchases | 0x7814d71a4b12f6213bf702c3a0e31448ccb2ff29 |
| Purchases related to YAP's | 0xa3501e87a699787f16bea5eef782994469c73889 |
| Purchases related to Payout Split | 0xe2ca353a5831ecc958c2c4ed99e3b170ec4144e7 |
All About Midas KYC Process
Passing KYC (Know Your Customer) is a required step to get the full benefit of the platform. Users with no KYC can only withdraw assets but won't be able to deposit, swap, earn interests, or receive affiliate rewards.
The company uses a 3rd party provider, Sumsub, for the KYC process. To get verified, all users need to provide their official government ID, a selfie video, and a proof of residence. This process usually takes 3 minutes but can be delayed up to 24 hours.
Midas doesn't store any IDs and personal data. Instead, Sumsub checks the documents and Midas only receives a simple yes or no from the service.
Does Midas Offer Insurance
The short answer is a no. However, acknowledging that insurance is one of the most demanded feature on the platform, the company is in the process of obtaining custodial insurance through Fireblocks to cover the risks of its deposited assets.
Regarding DeFi investment risks, the investment portfolio consists of over 50 positions which provides a limited exposure to each position. The company is creating a Midas insurance fund which will cover the average allocation of a single DeFi position.
Is Midas Customer Support Reliable
Yes. The main customer support channel is via chat support through the website.
I personally never had any issues but others report a very efficient and professional customer support while solving most requests within 2 business days.
In addition, there is always someone in Discord or Telegram to answer questions and help users with their requests or concerns.
Is There a Midas Referral Program​
​Yes, referrers receive a 5-10% bonus from the daily rewards in USDC of the invited referred. The number of invited referred is unlimited.
At this time, the invited person doesn't receive any signup bonus. However, they will have the great opportunity of inviting others to start receiving interest bonuses.
How to check how many times my referral code was used for signups? Users can get their referral link and check how many times it was used by going to their Midas profile in the dashboard.
The reward bonuses are paid daily and can be swapped to other assets. In addition, if there is a minimum 2.5 USDC balance, these rewards earn interests similar to all other assets.
Frequently Asked Questions (FAQs)
Does Midas Change Its Interest Rates Often
Interest rates are evaluated based on the market conditions, risks, and AUM. While Midas aims to keep the interest rates stable, it is subject to change based on the trailing two-month average ROI. Interest rates might be decreased or increased to maintain a healthy portfolio.
However, the company is great at notifying its users beforehand as soon as they decide a rate adjustment.
How To Calculate The Total Earned Interest For a Specific Period
Currently, there is no easy method to find the total earned amount. Investors need to go on each individual asset and export its transaction CSV. This file can be imported in other services to do the necessary calculations for tax purposes.
Is Midas Accumulating Any Cryptos During Crypto Bear Market
Yes, since the start of crypto winter, Midas has been accumulating cash-flow tokens, like CVX and CRV, at discount prices which will generate enough yield to cover the whole Midas for the next three years.
Does Midas Offer Crypto Loans to Individuals
No, it doesn't offer crypto loans to individuals.
Can Users Join Midas Using a Corporate Account
No, corporate accounts aren't supported at this time but it is something to be implemented in a near future.
Is DEFIYAP different from DEFI LP strategy
The products are different. With DEFIYAP you've strict underlying assets that are built within the DEFIYAP. Those are held in underlying assets and they root in the strategies that the DEFI team built for those underlying assets.
The DeFi token farming is just a basket of incentivized liquidity pools and it's incentivized on Convex Finance, which represents a different model from the one for DEFIYAP. They do represent different risk profiles, and they are fundamentally different products.
How Can I Fund My Midas Account
Funding Midas account can be done only via crypto deposits. There is no fee or minimum deposit for crypto deposits.
Go to your profile dashboard app
Click the asset you would like to fund
Click Deposit and choose the network
You will be provided with your wallet address for the transfer
Note: Read the description before sending coins and confirm that the selected network is the same as the network of the platform you are withdrawing funds from or depositing funds to. Selecting a wrong network will lead to the loss of funds.
Can Midas Recover My Lost Fund Due to Selecting a Wrong Network
Midas generally does not offer a crypto recovery service. However, if an investor suffered an over $500 loss as a result of an incorrect deposit attempt through supported cryptos and blockchains, Midas may assist in recovering the funds.
The fee for a deposit recovery service from unsupported network is $100 and can take up to 30 days if considered. If you need to proceed with an asset recover, complete this form.
This service is offered only once for each user and can't be done if the transferred crypto isn't supported in the platform.
Does Midas Support Fiat Deposits or Withdrawals
No, it only supports cryptocurrency deposits or withdrawals.
Does Midas Offer Address Book & Whitelisting
Yes. The Address Book feature allows Midas investors to add and store unlimited crypto addresses to make it easier and safer to send cryptocurrency.
As an additional security feature, Withdrawal Whitelist allows Midas investors to withdraw cryptocurrency only to addresses from Address Book.
Please note that Whitelist can't be enabled unless there is an address in the Address Book.
How do you generate a 10% yield on an asset like BTC
The main source of yield for BTC is the market-neutral funding rate strategy plus no time in market algorithm (trades only for two minutes) plus no leverage directional long and short algorithm. These algorithms generate 30% – 100% APR on the strategies, but due to Midas risk metrics, they are limiting the exposure to 10% based on market liquidity.
The other part of BTC portfolio is used as the collateral for stable strategies with algorithmic 24/7 monitored health-factor more than 2.0 with liquid DeFi stable strategies.
Does Midas Support Purchasing Crypto Using a Debit or Credit Card
No, it doesn't support any fiat related transactions including using a debit or credit card.
Does Midas Have a Mobile App
No, but it is a work in progress. As of today, only browser app is available. However, the browser app is efficient on mobile devices so can be utilized on a mobile if required.
Can I Change The Display Currency
No. The total balance can only be viewed in $USD US Dollars.
Is There a Minimum Crypto Withdrawal Amount
Yes, there is a minimum amount for each asset. The minimum withdrawal depends on the type of asset:
ETH & ERC20: The minimum withdrawal is double the withdrawal fees. For instance, if the withdrawal fee for USDC is 5, the minimum withdrawal is 10 USDC.
All Other Assets: The minimum withdrawal is changed manually by Midas.
| | | |
| --- | --- | --- |
| Asset | Min Withdrawal (In-Kind) | Withdrawal Fees (In-Kind) |
| AVAX | 0.5 AVAX | 0.015 AVAX |
| BNB | 0.05 BNB | 0.00021 BNB |
| BTC | 0.001 BTC | 0.0002 BTC |
| BUSD | 5 BUSD | 0.5 BUSD |
| FTM | 1 FTM | 0.1 FTM |
| MIDAS | 1 MIDAS | 0.005 MIDAS |
Midas' Current Minimum Withdrawal Limit for Non ETH/ERC20 Assets
Can I Swap Cryptos Inside Midas Investments
Yes. Cryptocurrencies can be swapped to other supported cryptos inside the platform. There are different swap fees ranging from 0.3% to 0.6% plus variable spread percentage.
Is There a Minimum Balance for Payout
Yes, each asset has a minimum value for daily rewards. If the balance is below this value, the user will not receive any rewards until the balance exceeds the min value.
The min value can be reviewed here. Some of the main minimum balances are BTC 0.00002, ETH 0.00001, USDC 2.5, USDC 2.5, and DAI 0.00001.
Is Midas Available in The US
Yes, the company is open to all 18+ citizens of the world who can pass the KYC process.
Where Is Midas Located
Midas is an international company with a team spread all over the world. However, Midas Alpha LLC is incorporated in St. Vincent and Grenadines with company number 1999 LLC 2022.
The core team of the company speaks Russian and was located in Moscow. In terms of Midas, as a company, it has never touched any Russian law or its currency, Ruble.
The Russian team members are now relocated to Istanbul, Dubai, and Georgia. They are all safe and receive their salaries in crypto.
How Is The War Affecting Midas Operations
The impact of war on the world is huge. This is an intense trauma for all generations. However, the war does not effect the company and Trevor said that Midas was born ready for such an event without realizing it was sadly going to happen.
We have trained to embrace chaos. And chaos it is.

Midas Investments Founder & CEO, Iakov "Trevor" Levin
Does Midas Store Users Funds In Cold or Hot Wallets
Midas is integrated with Fireblocks, a non-custodial wallet management solution adopted by other leading platforms like Binance, Kraken, and Coinbase. An estimated 90% of funds are managed within Fireblocks directly through its MPC framework.
The remaining 10% of users funds are saved on hot wallets for a smooth user withdrawals process. More information on how the company utilizes Fireblocks can be found here.
Do I Have to Pay Taxes
Mostly yes. For more information check Midas Tax Help and refer to your accountant.
Where Can I Find the Most Recent Updates
The official Discord server is the best and only place that can be relied on for all the current information.
Conclusions and My Midas Investments Review Verdict
Midas Investments has built an ecosystem of crypto products to simplify and boost passive income for its investors by providing one of the highest crypto yields. The company follows a Minimum Viable Product (MVP) model to boost its organic and steady growth.
As demonstrated, it is one of the most reliable crypto earnings platforms which has been generating passive income for its users for many years. It also offers a very sleek and user friendly interface which makes it a great choice for all passive income seekers.
As its mission is to empower users by offering great savings accounts, I personally think investors don't need to worry about the withdrawal fees as their vision should align with Midas' which is holding and earning passive income through investments to reach the dream financial freedom.
I have been in contact with the team and community through Discord and feel comfortable as an investor. However, they became officially a registered company after registering under the laws of Saint Vincent and Grenadines.
Bottom line is everything has been working smoothly for me personally and I hope we continue this trend together. Finally, if you found this review helpful and planning to join our Midas family, I appreciate signing up using my Midas Investments referral link.